Real Bride Holly !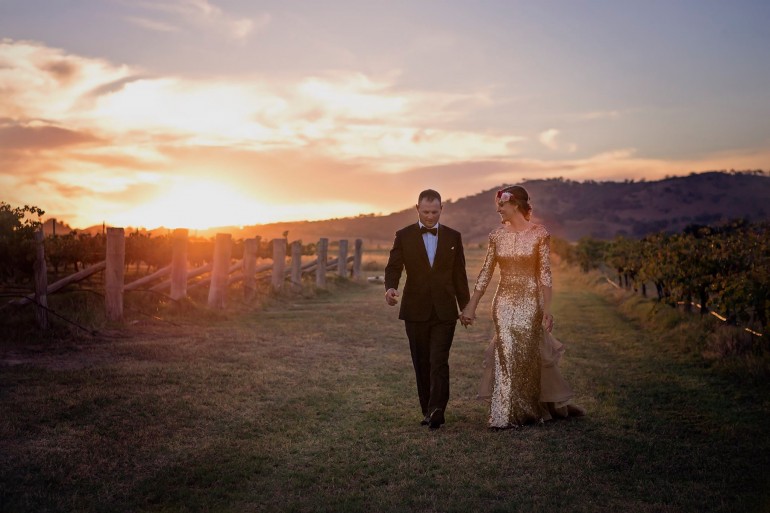 Real Bride Holly!
INSPIRATION
Our inspiration for our wedding was to create a laid back party atmosphere, we wanted our wedding to be different and have its own style.
I spent months gathering ideas on Instagram and Pinterest, and created folders full of photos on my iPad! I finally decided on my colour theme of pink and gold after I had locked in my dress – there was no turning back.
My mum made numerous pink throw cushions, and I collected as many gold spot cushions that I could find! We used these to decorate the lounge settings we hired from Domayn Hire. I borrowed old wooden boxes and ladders from Jeremy's Pop and used them to display flower arrangements and fairy lights. We had a photo backdrop made from wooden pallets, and a Polaroid camera for the guests to use.
I loved the idea of using rustic wooden cable reels as tables for our guests, I managed to track some down through a relative, and my Dad and I took several of them to the venue the day before which involved a lot of muscle power and splinters!
To add the finishing touches Tanya from Mudgee Made Roses created beautiful flower arrangements (continuing the pink theme!) each table had a beautiful arrangement, ladders were hung from the venue ceiling which Tanya decorated with asparagus fern from her garden, and she even found the time to create our amazing bouquets.
DRESS
From the minute we got engaged I started thinking about my dress (of course!) I knew that I didn't want to wear a white dress, I wanted to wear something different that reflected my personality and create a fun atmosphere on the day/ night. After a lot of searching I decided that I wanted to wear gold, now I couldn't picture myself wearing anything else.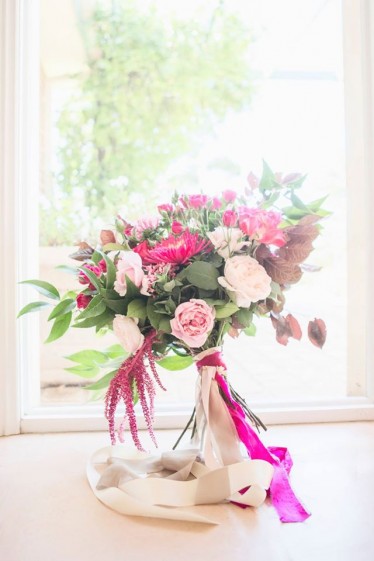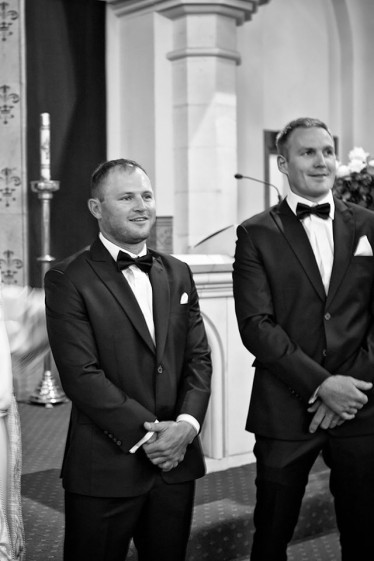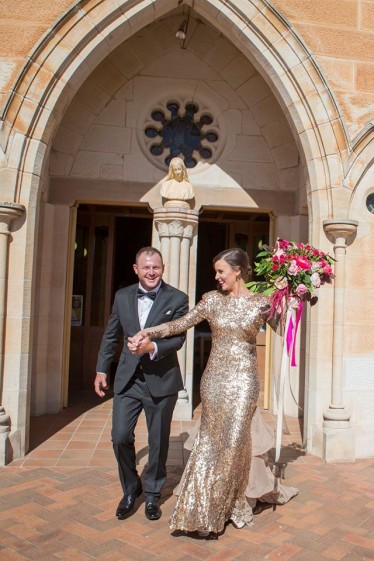 BRIDAL PARTY
The decision for our best man and bridesmaid was easy, we had my sister Libby and Jeremy's best friend Michael.
Having my sister involved made the whole process a lot of fun, from choosing the bridesmaid dress, being pampered on the day together, then dancing the night away. Michael lives 6 hours away from Mudgee so the effort he put in to be apart of the day meant a lot to us.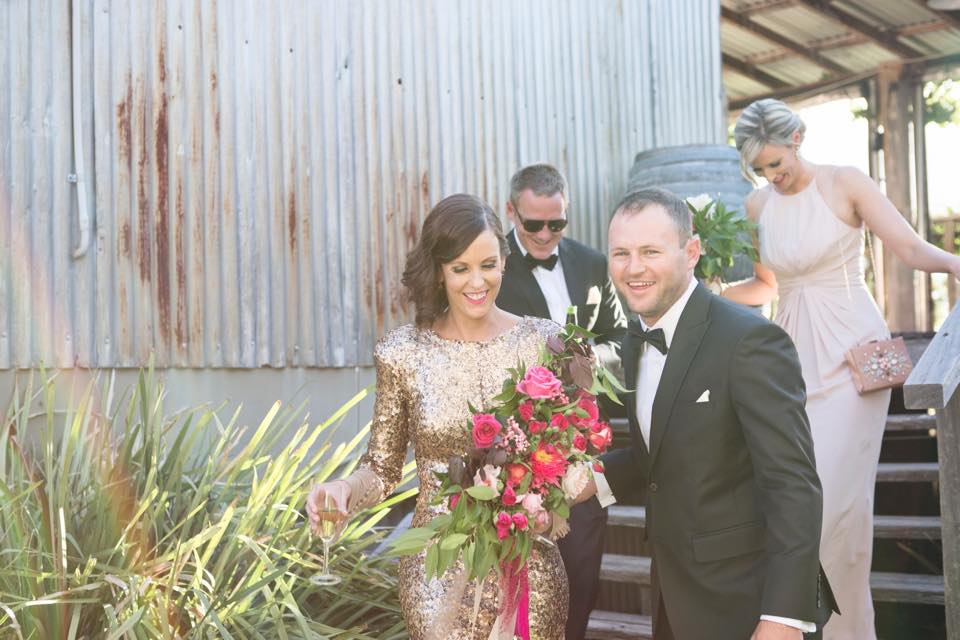 THE NIGHT –
We wanted a relaxed party vibe, and wanted our guests to mingle and dance. We had canapé style catering, and and antipasto station which guests could help themselves too. We had a dance floor set up on the grass covered with lights, and live music playing during the evening.
Everything went perfectly and everyone enjoyed themselves, and Mudgee Made Catering dessert table was a hit!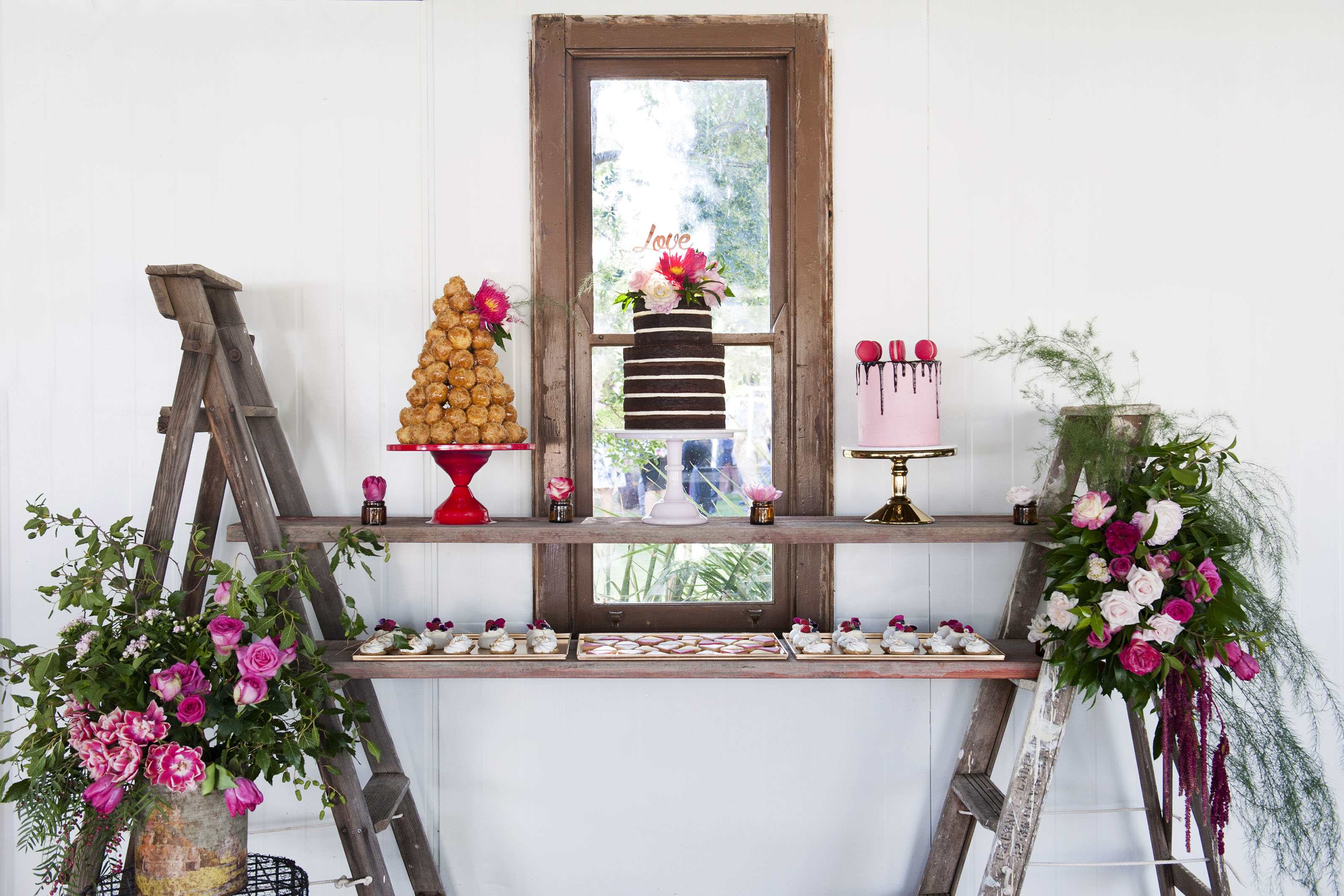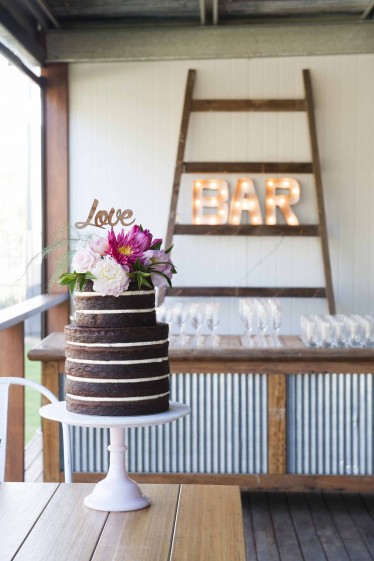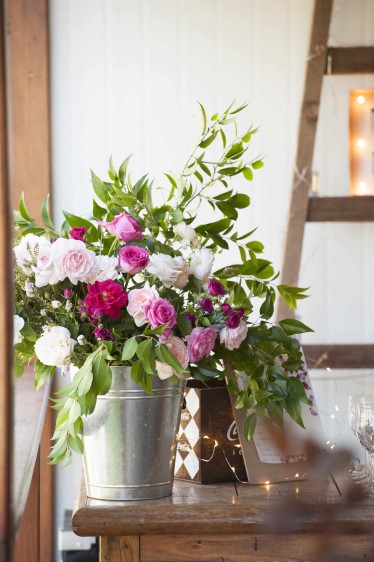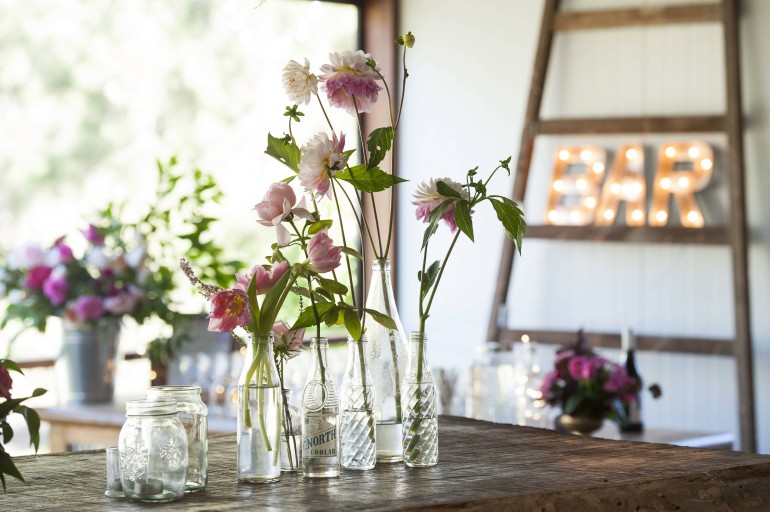 BEST THING ABOUT THE DAY
The best part of the day was getting to the venue and after the initial formalities were over and spending time with our friends and family. Some of our guests had travelled hours to be there, and we were so grateful that they had put in so much effort to come and enjoy our special day.
I also have to say that I was blown away with how our venue looked, I remember walking into the winery thinking Wow! Tanya from Mudgee Made Roses did a fantastic job, along with the team From Domayn Hire. Everyone involved put in so much effort and we were so happy with how the whole day went.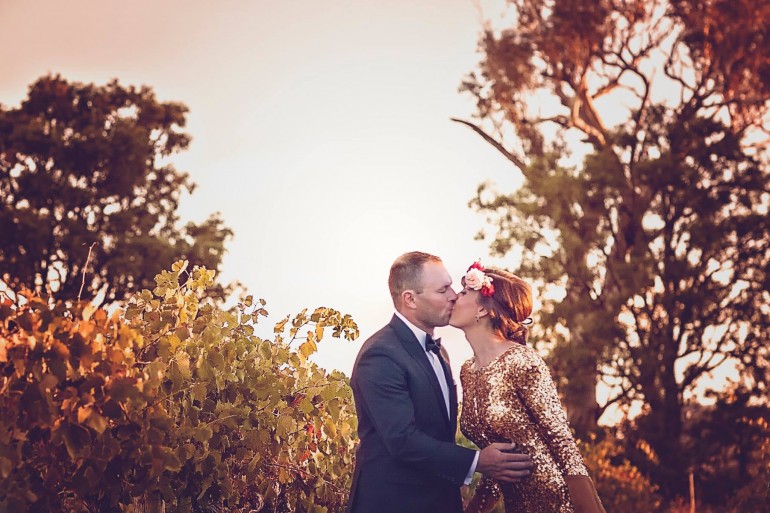 LOCATION – Burnbrae Winery – Hill End Road Mudgee
MAKE UP –  Abby Wilkins, Bella Medi Spa
PHOTOGRAPHY – Nikki Bourke
FLOWERS + BOUQUETS – Tanya Scott, Mudgee Made Roses
DRESS – Celyna Ziolkowski
CAKE – Mudgee Made Catering
HIRE – Domayn Hire
HAIR – (02) 6372 6683